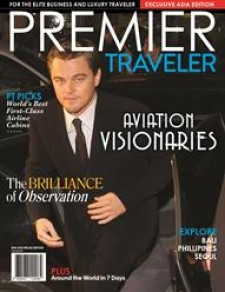 Online, May 10, 2015 (Newswire.com) - NEW YORK, NY - This month Premier Traveler takes a look back at Aviation Visionaries who shrank the world and changed history, while PT Picks names the best First Class airline cabins of 2015. (Spoiler below!) Also in this issue, readers share powerful personal memories of their early flights, and we hear the uncensored version of Bill Kizorek's seven day trip around the world.
The stories of four compelling women, accomplished executives who continue to thrive by using their powers of observation and continually adapting to their surroundings:
Katherine Melchior Ray
Vice President of Luxury Brands, Hyatt Hotels Corporation
Even though Katherine Melchior Ray regularly circles the globe as Hyatt's Vice President of Luxury Brands, "The sensation of barreling down the runway, feeling the ground give way, and suddenly being hundreds and thousands of feet up-it still amazes me," she declared. "I feel like a kid every single time.
"If you live in the land of reason, you'll stay in the land of reason, because rational people are just going to go to price: 'What am I getting for this?' But if you get into the land of dreams, then there's no rational way to judge it. People believe in it, they want it, and who can tell you if it's worth $1,000 or $2,000 or $3,000? So I encourage Hyatt to use reason, but not be hamstrung by it."
Karin Timpone
Global Marketing Officer, Marriott International
JOINING THE CONVERSATION
Recently, my creative team hit on a powerful and emotionally resonant idea about what unifies travelers-their personal stories and reasons why they are traveling. So, combining great storytelling with technology through #LoveTravels brought together a string of inspiring stories from around the world illustrating how people, comfortable in being who they are, bring their passion with them wherever they travel.
Gail Grimmett
Senior Vice President, New York, Delta Air Lines
Grimmett has the massive responsibility of keeping all of Delta's New York routes profitable, but must accomplish the task in a manner that's completely new for the airline. The idea was to create a "matrix" or business unit that works across Delta's traditional functional areas, giving Grimmett a wide lens on this vital hub. This means that she's involved in a broad swathe of departments, from operations and commercial affairs to customer experience at the airport to philanthropy and community giving.
Joanna Geraghty
Executive Vice President of Customer Experience, JetBlue
Arduous as that long trail through the New York boroughs may be, Joanna's day-to-day job looks to be equally demanding. Responsible for airports, customer support, reservations, and in-flight services, Geraghty oversees about 12,000 of JetBlue's 16,000 crewmembers, giving them the tools to deliver optimum service.
PT Picks: WORLD'S BEST FIRST CLASS CABINS
Find a small preview of what's inside PT below
"Let's talk first class," said Adam Rodriguez, PT's Executive Director. "As we looked back at true aviation visionaries and the planes they created, yes it may have been four or more stops to a destination but, side-by-side photo comparisons show us there has always been that taste for luxury. I won't spoil the surprise," promised Rodriguez, "but has anything changed?"
Cathay Pacific First Class
Cathay Pacific maintains a steady line of communication with its frequent fliers, and not only takes their comments to heart, but often invites them to test out prototypes of new cabin designs and onboard amenities. So it's no surprise that its First Class product-launched in 2007 and recently refreshed-ranks high in flier satisfaction.
Asiana 380 Special Edition First Suite Class
At first, Asiana's premium suites woo you with all their bells and whistles, including two sliding doors for total privacy, the world's largest in-flight personal TVs (32-inches), companion seats, and private mini-bars. But the airline's fans are most passionate about the impeccable service and thoughtful touches.
Emirates First Class
From the moment your complimentary chauffeur picks you up from the airport (a service currently available in 70 cities worldwide), Emirates' First Class experience is all about making travel seamless and intuitive. The airline also offers airport perks like Fast Track immigration privileges and (in Dubai) direct boarding from the A380 lounge.
Singapore First Class
Not one to rest on its laurels, Singapore Airlines is taking its already-stellar First Class to another level with the launch of "Next Generation" cabins on their new 777-300ER aircraft (and future A350s). Designed in partnership with BMW Group DesignworksUSA, the new First shells feature curved walls for added space and privacy, flat-beds that measure (Find out in the issue).
Qatar First Class
With Frette linens and duvets, Giorgio Armani amenity kits, designer "sleeper suits," and celebrity chef-crafted meals served on demand, you'd be forgiven for thinking you're in a five-star hotel instead of Qatar Airways' First Class.
Qantas First
From your complimentary Chauffeur Drive and dedicated airport first host to the fast-track immigration and boarding lanes and spa-equipped lounges (all at select airports), the Qantas First pre-flight experience sets the tone for a smooth ride. Once on board, your suite comes equipped with a fully flat bed (with ottoman), which gets topped with a sheepskin mattress, duvet, blankets, and pillows when you are ready.
United Global First
Back-massaging chairs, turndown service, ice cream sundaes-what else could a traveler want? Offered on most international routes, United Global First makes journeys comfortable with all the needed perks, from ergonomic tray tables, USB and laptop charging ports and noise-cancelling headphones to six-foot, six-inch-long flat-beds made up with sleeping cushions, duvets, and pillows.
Etihad
There isn't just a First Class on Etihad-there are First Suites, First Apartments, and The Residence. Guests of all premium cabins enjoy chauffeur service to the airport (offered in 30 cities), a dedicated airport concierge and check-in area, and (in Abu Dhabi) access to a sleek lounge with a Chef's Table and Six Senses spa.
British Airways First Class
The Boeing 787-900 Dreamliners aren't British Airways' only new arrivals this year: With the new planes comes a next generation First Class, which expands upon the updated A380 cabin launched in 2013.
Lufthansa First Class
Settle into wide, ergonomically shaped seats and enjoy Lufthansa's on-point First service, available on several aircraft models. In addition to an extensive entertainment system and work-friendly touches like wider tables and in-seat outlets, the airline distinguishes itself with gourmet, regional-inspired dishes.
Features Editor Janet Forman expressed "This is part of what makes Premier Traveler more than just another magazine, but one that shares a personal connection with you."
Premier Traveler's Editorial Awards
2014 BEST MAGAZINE ARTICLE, FOREIGN TRAVEL
2014 BEST IN-DEPTH COVERAGE ON A TRAVEL-RELATED THEME
2014 PHOTOGRAPHY, ACTION, 2ND PLACE
2014 THE BUSINESS OF TRAVEL, 2ND PLACE
2014 BEST MAGAZINE ARTICLE: FOREIGN TRAVEL, 2ND PLACE
2014 BILL MUSTER GOLD AWARD: CULTURAL CATEGORY
2013 BEST MAGAZINE ARTICLE: U.S. TRAVEL
2013 BEST MAGAZINE ARTICLE: FOREIGN TRAVEL
2013 BEST BUSINESS TRAVEL MEDIA AWARD
About Premier Traveler: Premier Traveler (PT) was created as an outlet for its readers' voices to be heard. Perpetually on-the-go (both domestically and abroad), with high expectations and a taste for luxury, PT readers always have something to share -- a personal experience, an opinion, a suggestion, a question -- and PT was designed to listen and to get the answers they need.
The open dialogue doesn't stop with letters and emails from readers. PT goes one step further by creating frequent questionnaires on a variety of topics, allowing the editorial team to inject the magazine's content with valuable and relevant insights.
As perennial global travelers, PT readers demand premium products and services but can still appreciate a good deal. That's why they turn to PT for the latest travel news and information, while also learning about exciting promotional offers and losing themselves in candid hotel and flight reviews. This is part of what makes Premier Traveler more than just another magazine, but one that shares a personal connection with its readers.
Image Available: www.marketwire.com/library/MwGo/2015/5/11/11G041194/Images/PTRV_1A-984720061796.jpg
Image Available: www.marketwire.com/library/MwGo/2015/5/11/11G041194/Images/PTRV_1-909296410140.jpg
Image Available: www.marketwire.com/library/MwGo/2015/5/11/11G041194/Images/K_in_BUenos_Aires-601219703067.jpg
Image Available: www.marketwire.com/library/MwGo/2015/5/11/11G041194/Images/TimponeKarin_Headshot_-_color_Dec_2013.jpg-317364669019.jpeg
Image Available: www.marketwire.com/library/MwGo/2015/5/11/11G041194/Images/Gail_Grimmett_headshot-528643045001.jpg
Image Available: www.marketwire.com/library/MwGo/2015/5/11/11G041194/Images/Unknown-347187857950.jpeg
Image Available: www.marketwire.com/library/MwGo/2015/5/11/11G041194/Images/CX_-_First_Class_Product-726872391567.jpg
Image Available: www.marketwire.com/library/MwGo/2015/5/11/11G041194/Images/A380_FC011_Full_Flat_Sleeping_W-581608203914.jpg
Image Available: www.marketwire.com/library/MwGo/2015/5/11/11G041194/Images/first_class_wine_cellar-753942120123.JPG
Image Available: www.marketwire.com/library/MwGo/2015/5/11/11G041194/Images/SIA_B777-300ER_-_First_Class_2-1152708913878.jpg
Image Available: www.marketwire.com/library/MwGo/2015/5/11/11G041194/Images/A380_lounge-830800180838.jpg
Image Available: www.marketwire.com/library/MwGo/2015/5/11/11G041194/Images/QF_-_First_Class_Product-779570991928.jpg
Image Available: www.marketwire.com/library/MwGo/2015/5/11/11G041194/Images/United-Global-First1-568331785273.jpg
Image Available: www.marketwire.com/library/MwGo/2015/5/11/11G041194/Images/6093_Etihad_Residence_Lounge_V_02a-847540037294.jpg
Image Available: www.marketwire.com/library/MwGo/2015/5/11/11G041194/Images/BA_A380_First-1096258031038.jpg
Image Available: www.marketwire.com/library/MwGo/2015/5/11/11G041194/Images/LH_First_Class_2-588344214787.jpg
Source URL: http://www.marketwired.com/mw/release.do?id=2018487&sourceType=3
Share: