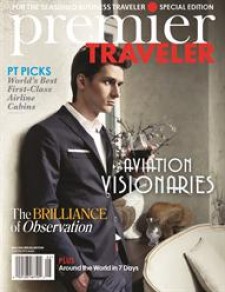 Online, May 28, 2015 (Newswire.com) - NEW YORK, NY - This spring Premier Traveler (PT) magazine garnered a first place award from the Society Of American Travel Writers (SATW), a professional organization dating back to 1955. Features Editor Janet Forman was crowned for her Editor's Letter and Food for Flight article during the 2015 SATW Contest.
Foreman's articles were selected from entries submitted by professional travel writers and photographers from across the U.S. and Canada. Prior award-winning submissions appeared in such prominent outlets as the Boston Globe, International Travel News, the Miami Herald, Afar and National Geographic Traveler.
"PT is honored that such a well established organization as SATW has recognized the exceptional quality of our content," said PT CEO Jake Porter. "And although our entire staff is to be commended on their efforts and contributions, we congratulate Janet Foreman on her record-breaking achievement."
The award-winning Editor's Letter, in which Foreman recalls when she first fell in love with travel while making lifelong friends, took first place in the category Best Magazine Article - Romance. Foreman's Food for Flight article, noting pioneering airline kitchens riding the newest wave, took second place in the Best Magazine Article - Food and Wine category.
"This is a first in the record books," said SATW Chairman Laura Phillip Bennet. "As far as we know no Editor's Letter has ever won this contest. This is especially significant considering that Janet's entry was being judged against several hundred other entries from some of the top travel writers in the U.S. and Canada."
PT Publisher Anthony Giani commended the magazine's Executive Director Adam Rodriguez on his leadership of the top-notch, high-energy team.
"His insistence that the magazine produce content that will address and inform the needs of today's modern, wordly and savvy jet setter are unwavering," said Giani. "With an infectious enthusiasm, Rodriguez delivers a unique publication geared towards a new breed of traveler - one that embraces a hip and elite lifestyle all its own."
Premier Traveler's Editorial Awards
2014 BEST MAGAZINE ARTICLE, FOREIGN TRAVEL
2014 BEST IN-DEPTH COVERAGE ON A TRAVEL-RELATED THEME
2014 PHOTOGRAPHY, ACTION, 2ND PLACE
2014 THE BUSINESS OF TRAVEL, 2ND PLACE
2014 BEST MAGAZINE ARTICLE: FOREIGN TRAVEL, 2ND PLACE
2014 BILL MUSTER GOLD AWARD: CULTURAL CATEGORY
2013 BEST MAGAZINE ARTICLE: U.S. TRAVEL
2013 BEST MAGAZINE ARTICLE: FOREIGN TRAVEL
2013 BEST BUSINESS TRAVEL MEDIA AWARD
About Premier Traveler:
Premier Traveler (PT) was created as an outlet for its readers' voices to be heard. Perpetually on-the-go (both domestically and abroad), with high expectations and a taste for luxury, PT readers always have something to share -- a personal experience, an opinion, a suggestion, a question -- and PT was designed to listen and to get the answers they need.
The open dialogue doesn't stop with letters and emails from readers. PT goes one step further by creating frequent questionnaires on a variety of topics, allowing the editorial team to inject the magazine's content with valuable and relevant insights.
As perennial global travelers, PT readers demand premium products and services but can still appreciate a good deal. That's why they turn to PT for the latest travel news and information, while also learning about exciting promotional offers and losing themselves in candid hotel and flight reviews. This is part of what makes Premier Traveler more than just another magazine, but one that shares a personal connection with its readers.
Image Available: www.marketwire.com/library/MwGo/2015/5/29/11G043097/Images/PTRV_1-374151088005.jpg
Image Available: www.marketwire.com/library/MwGo/2015/5/29/11G043097/Images/Color_logo_with_tag-420980217383.JPG
Image Available: www.marketwire.com/library/MwGo/2015/5/29/11G043097/Images/France_Venasque_Janet_at_car_DSC03778-001-1396845564168.jpg
Source URL: http://www.marketwired.com/mw/release.do?id=2024627&sourceType=3
Share: