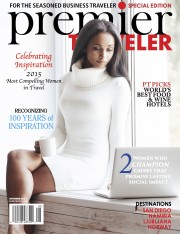 Premier Traveler Magazine Honors Inspiring Women by Awarding the" Most Compelling Women in the Travel"
New York, NY, November 11, 2015 (Newswire.com) - ​​​​​​​​​​​​Premier Traveler continues to celebrate inspiring women by honoring the "Most Compelling Women in the Travel Industry" 2015. The November issue will reveal brief introductions to the women who are taking the lead in the travel industry. Throughout the coming year, Premier Traveler will elaborate on their stories through in-depth interviews, a dedicated section on our website and special events with male and female leaders from all corners of the world. With these efforts, we hope to accelerate the dialogue on diversity, awareness and sensitivity that makes for a better travel experience for everyone - a discourse that promises to become only livelier as we travel into the future.
ROSEMARIE ANDOLINO
CEO AND PRESIDENT, MANCHESTER AIRPORT GROUP, US
Thanks to her unflagging energy and boundless imagination, Rosemarie Andolino lands on this list of the travel industry's most accomplished women for the second year in a row. For more than two decades, Andolino was a public service leader in Chicago. As Executive Director of the O'Hare Modernization Program, she supervised an $8 billion dollar building program; a few years later, she was appointed Commissioner of the Chicago Department of Aviation, which added day-to-day operations at both O'Hare and Midway Airports to her duties. This year, Andolino was appointed CEO and President of the Manchester Airport Group - US, a division of the largest UK-owned airport operator, where she will develop and operate terminal and retail solutions, passenger lounges and parking facilities in North America.
JUDY CAMERON
CAPTAIN, AIR CANADA
As Air Canada's first female pilot, hired in 1978, Cameron was the first Canadian woman to fly for a major commercial carrier. She ascended to the Captain's seat of a Boeing 777-300ER by persevering though a series of far less glamorous jobs, such as co-piloting a DC-3 to the Arctic oilfields, where her duties included loading the plane. While Cameron has just retired after 37 years at Air Canada, she intends to keep flying, possibly in her own small plane.
DOMINIQUE COLLIAT
CHIEF OPERATING OFFICER NORTH, CENTRAL AMERICAS & CARIBBEAN, ACCOR HOTELS
During her nearly 28 years with AccorHotels, Colliat managed properties in the Caribbean, France and Great Britain, before moving into the corporation's executive suite, where she successfully repositioned the Sofitel brand. Colliat has recently moved to the U.S., where she has been appointed Chief Operating Officer North, Central Americas & Caribbean. Her extensive charity work includes Accor Foundation projects in Morocco and Algeria that focus on childcare and orphanage development. For her accomplishments in the hospitality industry, Colliat has been awarded the French Légion d'Honneur and the Silver Medal of Tourism by the government of France.
CHRISTINA ONG
COMO HOTELS AND RESORTS OWNER
Considered one of the most successful businesswomen in the world, Ong is a major player in the worlds of fashion (as a founder of Club 21 and owner of several luxury boutiques), travel (as a founder of COMO Hotels and Resorts), and wellness (as a principal of COMO Shambhala.) Ong sits on the board of Singapore's National Parks Service, and was on the inaugural list of inductees into the Singapore Women's Hall of Fame.
VANESSA HUDSON
QANTAS AIRWAYS, SENIOR EXECUTIVE VICE PRESIDENT, THE AMERICAS
In her long career at Qantas Hudson has been instrumental in developing the Airbus A380 product, and introducing Premium Economy and Domestic next generation check-in, as well as the Flagship first class lounges in Sydney, Melbourne and London. In 2013 she was appointed Senior Executive Vice President, The Americas, a vast territory that encompasses the United States, Canada and South America.
MICHELLE VINK
FOUNDER OF PR, BRANDING & PRODUCTION AGENCY VINKMEDIA
Armed with years of experience with luxury brands such as Saks Fifth Avenue, Neiman Marcus, Jo Malone, Christian Dior and Lancôme, along with a network of contacts among socialites and the entertainment industry elite, Vink has built a thriving career as a Brand Strategist. Notably, Vink is equally well known as a certified yoga and meditation teacher, a long time patron of the arts, and an active volunteer for charities that bring art to children and populations in need, such as In A Perfect World and The Art of Elysium.
DIANA POSTEMSKY
AMERICAN EXPRESS GLOBAL BUSINESS TRAVEL, V.P., CORPORATE AFFAIRS & COMMUNICATIONS
With the same power and drive that helped make her a college athlete, Postemsky ascended the ranks at the elite communications firm Kekst and Company. Now, as Vice President, Corporate Affairs & Communications at American Express Global Business Travel, she is helping to spearhead the 100 Years of Business Travel program, which highlights business trips that sparked momentous change—such as the invention of nylon, the launch of Qantas Airlines, and the large scale production of penicillin.
LISA MARKOVIC
QATAR AIRWAYS, COUNTRY MANAGER – USA
A true international, Markovic was born in the United States but spent a good part of her youth and young adulthood in Slovenia, at that time known as Yugoslavia. Her cultural adaptability and linguistic fluency—Markovic speaks Slovenian, Serbian, Croatian, Russian, and English—led to executive positions at airlines as diverse as Germany's Lufthansa, India's Jet and now Middle Eastern carrier Qatar, where she was recently appointed Country Manager for the U.S.
TRICIA PRIMROSE
MARRIOTT INTERNATIONAL, INC., GLOBAL CHIEF COMMUNICATIONS & PUBLIC AFFAIRS OFFICER Primrose's distinguished career in strategic public relations includes spearheading the communications strategy for AOL's successful public offering, and taking on leadership positions with the Democratic Congressional Campaign Committee. Recently, as a partner at Rational 360, she provided counsel for C-suite executives at multinational companies. This summer, Primrose moved to Marriott, where she was appointed Global Chief Communications & Public Affairs Officer.
MARIANA GARCIA GARZA
EMIRATES AIRLINE, PILOT
When Mariana Garcia Garza was growing up in Mexico, her teachers thought her ambition to fly planes like her father and grandfather was 'cute.' Today, she pilots one of the largest and most complex machines in the skies: the Airbus A380. At the start of her career, Garcia Garza was one of only 18 female pilots (out of 800) in the country. Still, her skills were so formidable that she earned a rare spot on the flight deck of Mexicana Airlines—by coincidence, the carrier where her father worked. When Mexicana folded, Garcia Garza moved on to her next opportunity, which took her to the Middle East. Still the rare female in the cockpit, Garcia Garza enjoys her job so much, she doesn't even mind being mistaken for a flight attendant during her walk though the plane: If a passenger hands her their trash, she takes it with a smile.
ANNA THOMPSON
CATHAY PACIFIC, DIRECTOR OF FLIGHT OPERATIONS
After holding a wide range of management positions at Cathay Pacific, both in Hong Kong and overseas, Anna Thompson has just been promoted to the position of Director of Flight Operations. A manager with a gift for organization, Thompson's previous post was as General Manager of Aircrews in Cathay Pacific's Flight Operations Department. Earlier in her career, Thompson was Chief Operating Officer of Air Hong Kong, an all-cargo carrier partly owned by Cathay Pacific.
ANDREA ROBINSON
DELTA AIR LINES, MASTER SOMMELIER
There are only 21 female Master Sommeliers in the world, and Andrea Robinson is one of them. Distinctions came early in her wine career, when Robinson was appointed the first female cellar master at the renowned Windows on the World restaurant, and later won three James Beard Awards, a top honor in the culinary field. Now, as Master Sommelier for Delta Air Lines, Robinson tastes 2,000 wines a year, both on land and in the air, to find 30 ideal bottles for Delta's first and business class cabins. Beyond her books, TV and consulting work, Robinson has spent three years designing a single glass shape that will showcase every wine, red or white. She calls it "The One."
PARK GEUN-HYE
PRESIDENT OF SOUTH KOREA
Tenacity and clear-eyed vigilance are two key qualities that have propelled Park Geun-hye to South Korea's highest office. Soon after graduating from Sogang University with an engineering degree, Park's mother, South Korea's First Lady, was killed by a bullet intended for her father, the then-President. Although the grief-stricken young woman was just 22, she took over her mother's state duties with self-assurance and grace. Five years later, her father was assassinated, too, but instead of withdrawing from politics, Park redoubled her efforts. In 1998, she was appointed vice chairperson of the Grand National Party, and also became a member of the National Assembly. In 2007, she ran for President and lost—but with characteristic resolve, she tried again. In 2012, she was elected the first female President of South Korea.
MELANIE BRANDMAN
FOUNDER AND CEO OF THE BRANDMAN AGENCY
This founder of one of the most prestigious luxury travel and lifestyle public relations agencies in America was born in Australia, has called London and Tel Aviv home, and is now an American citizen. Prior to founding her eponymous company, Brandman was Vice President, Corporate Affairs for InterContinental Hotels & Resorts in London. Well- known in the world of luxury travel for her unerring taste and personal magnetism, Brandman has also started several other successful ventures including The Travel Curator, an online travel site of city guides for top luxury destinations. Brandman devotes a good deal of her time to philanthropic efforts that focus on travel and education: She is on the Executive Board of Directors of the Bodhi Tree Foundation, and has been named Manager of the U.S. Elephant Polo team.
ELISE EBERWEIN
AMERICAN AIRLINES, EXECUTIVE VICE PRESIDENT, PEOPLE AND COMMUNICATIONS
Eberwein has packed a vast range of accomplishments into 26 years of airline work. After 11 years at TWA, where she started as a flight attendant, Eberwein moved into executive jobs at Frontier Airlines, America West, and US Airways, where her efforts to increase diversity earned her awards from LATINAStyle magazine, Military Times Edge magazine and Black EOE Journal. In 2012, the Phoenix Business Journal named Eberwein Volunteer Executive of the Year. At American, Eberwein is now Executive Vice President, People and Communications, where she oversees human resources, media relations, employee communications, social media and public affairs.
ANN CAIRNS
PRESIDENT INTERNATIONAL MARKETS, MASTERCARD
Cairns began her professional life as an award-winning research engineer. Armed with a Bachelor of Science in Pure Mathematics from Sheffield University and a Master of Science in Statistics from Newcastle University, she became the first woman in Britain qualified to go offshore, and headed the Offshore Engineer-Planning effort for British Gas, managing a team of more than 50 engineers. Moving into the business world, Cairns was named Chief Executive Officer, Transaction Banking at ABN-AMRO in London, where she managed over five billion Euros in 50 countries. Today, as President, International Markets for MasterCard, Cairns oversees all of MasterCard's markets and customer-related activities outside North America, in more than two hundred countries.
JANET FORMAN
JOURNALIST AND FILM PRODUCER
Forman has picked up two Lowell Thomas Gold Medals and a Silver, the 2014 Bill Muster Gold Medal for Best Cultural Photo, the 2011 Bill Muster Photo Gold Medal for her Single Subject Portfolio on Abu Dhabi, and was named Pacific Asia Travel Association Journalist of the Year 2000. She has received awards from SOLAS, NATJA, and the governments of Belgium and South Africa. Among her numerous SATW Eastern Chapter First Place awards is her 2015 win for a PT Editor's Letter, the first time in the history of the contest that a piece in this format has been so honored. Forman holds an M.F.A. from NYU's Tisch School of the Arts and writes from the brownstone she renovated in Harlem, New York.
KEIJA MINOR
BRIDES MAGAZINE, EDITOR-IN-CHIEF
Minor made publishing history when she was named the first female African American Editor-in-Chief of a Condé Nast magazine in 2012. She accomplished this by taking an enormous personal risk in her 20s: As a graduate of Howard University School of Law with a successful career and a six-figure salary, she decided to follow her passion and lobbied hard for an internship (with an 85 percent pay cut) at the startup travel magazine Travel Savvy. Acting on those instincts paid off: Her editorial skills proved formidable and her career trajectory was swift. Travel Savvy recognized her talent and in a few months she was the magazine's Editor-in-Chief. Minor went on to become managing editor of LA Confidential and Aspen Peak, and was named Editor-in-Chief of Gotham Magazine and then Uptown magazine before landing at venerable Condé Nast.
KATHERINE AUGUST-DEWILDE
PRESIDENT AND BOARD MEMBER, FIRST REPUBLIC BANK
As a busy bank executive, August-deWilde knows the value of personal service, especially to business travelers. Appointed First Republic Bank's COO in 1995, and President in 2007, her accomplishments are clear: Republic has been named Top Private Bank in the United States by the Family Wealth Report, and one of the Best Banks in America by Forbes. Outside the executive suite, August-deWilde's charity work includes serving as a Trustee of the Boys & Girls Club of San Francisco, and as a member of the Advisory Council of the Stanford Center on Longevity and the Business Advisory Council at Stanford University Graduate School, where she received her MBA.
CHRIS GREENHALGH
IHG, DIRECTOR, GLOBAL CAMPAIGN PLANNING & COMMUNICATIONS
Greenhalgh has risen steadily through the ranks at IHG over the last two decades, distinguishing herself as marketing manager for the Ritz-Carlton Hotel Company and Brand Manager at Crowne Plaza Hotels & Resorts, where she supervised marketing and guest experience. In 2010 she was promoted to her current position as IHG's Manager of Global Campaign Management and Planning.
About Us: Premier Traveler (PT) was created as an outlet for its readers' voices to be heard. Perpetually on-the-go (both domestically and abroad), with high expectations and a taste for luxury, Premier Traveler readers always have something to share—a personal experience, an opinion, a suggestion, a question—and PT was designed to listen and to get the answers they need.
The open dialogue doesn't stop with letters and emails from readers. Premier Traveler goes one step further by creating frequent questionnaires on a variety of topics, allowing the editorial team to inject the magazine's content with valuable and relevant insights.
As perennial global travelers, PT readers demand premium products and services but can still appreciate a good deal. That's why they turn to Premier Traveler for the latest travel news and information, while also learning about exciting promotional offers and losing themselves in candid hotel and flight reviews. This is part of what makes Premier Traveler more than just another magazine, but one that shares a personal connection with its readers.
AWARD WINNING JOURNALISM
2013 "Best Magazine Article: U.S. Travel"
2013 "Best Magazine Article: Foreign Travel"
2013 "Best Business Travel Media Award"
2014 "Bill Muster Gold Award: Cultural Category"
2014 "Best Magazine Article Foreign Travel: The World's a Stage"
2014 "Best Magazine Article Foreign Travel: Lisbon's New Lease on Life"
2014 "Best in-depth coverage on travel theme: Series on Women in Travel"
2014 "The Business of Travel, Second Place: Meet in the Cloud Forest"
2014 "Best Photography, Action, Second Place: Shark Tank (Dubai)"
2015 "Best Magazine Article: Romance"
2015 "Best Magazine Article, Second Place: Food and Wine"
For information contact:
Julia Rodriguez
Premier Traveler
juliar@jarppubs.com
www.premiertravelerusa.com
Share: